Face-changing Cube Game - Vision & Thinking challenge
$19.99

$19.99
Buy more than 1 and save 10% for the entire order.
---
---
Fast US Delivery.

Dispatch in 1-3 Days.

Easy 30 Days Return.

Secure Payment.
---
Promote your children's hand-eye coordination and stimulate their sensory development. 
 Learn to embrace, identify, and correct mistakes.
 Develop a love for challenges.
 Improves focus and determination.
 keeps children away from electronic screens.
 Makes learning fun and enjoyable.
The Blocks toy is suitable for all children older than three years. and is a great interactive game toy. Kids take one card and build the blocks according to the reference. The one takes the shortest time wins.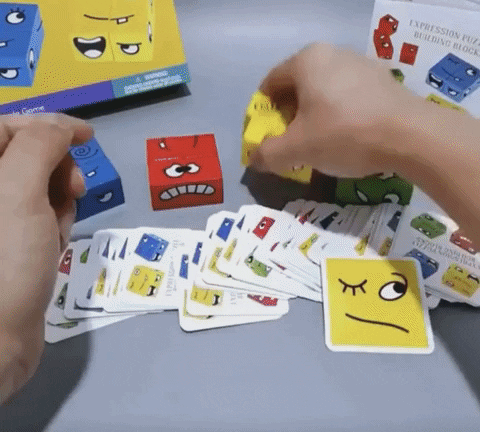 IMPROVING SKILLS:
The block toy has a cute and fun appearance so children will quickly concentrate on and enjoy this toy.
It stimulates children's attention and enhances their hand-eye coordination, logical thinking, hands-on ability, and fine motor skills.
Also, the interesting game keeps children away from electronic screens, which helps protect their eyesight.
GOOD SOCIAL GAME:
This game promotes children's interpersonal skills and deepens friendships between children.
The sturdy packaging box makes this toy portable. Kids can play with their family members as well as their school classmates.
The first kid to spell out the corresponding emoji wins this card, and the first kid to get 10 challenge cards wins the game!

Step 1
Shuffles all the cards and choose one face card at one time.

Step 2
Each player chooses one color of blocks (4 colors total)

Step 3
Pick up 1 card to start,
Players should put the cubes together and make their face expression is exactly as the card face, the fastest player win.

Features:
-Safe Material: Made of selected solid wood, odorless and smooth edges...

-Ability Cultivation: The great challenge of eyesight and thinking, improve children's hands-on ability, hand-eye coordination, logical thinking, active brain function.

-Colorful: Interesting expression pattern and colorful geometric shape, easy to attract children's attention.

-Various Function: It can help improve kid logic thing ability, release the working pressure of the adults, and prevent a decline in memory of the senior citizens.

-Gift Idea: An interesting and challenging toy for kids, great gift for kids on Christmas, birthday, etc.
Package Included:
-Wooden square printing model: 12 pcs.
-Game challenge cards: 50 cards.
---