Cake Decorating Cordless Compressor Airbrush.
$59.95

$59.95
Buy more than 1 and save 10% for the entire order.
---
---
Fast US Delivery.

Dispatch in 1-3 Days.

Easy 30 Days Return.

Secure Payment.
---
Everything you need to start creating edible masterpieces using your own personal touch!

Perfect for beginners and students, as well as for advanced cake decorating artists.
Simply add a few drops of color to your airbrush, power up the compressor, pull the trigger and go! It's just that easy to start your own customized creations!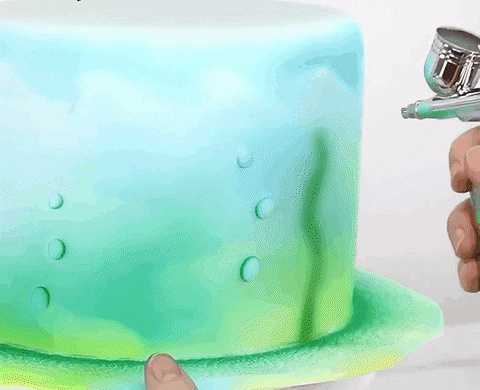 Airbrushing is the perfect blend of cake and art: Unleash your imagination to create your own amazing designs on cakes, cupcakes, cookies, and desserts.

Precision, User-friendly airbrush: Provides extreme air control for ultra-fine spraying. The nozzle of this airbrush is only 0.3mm, so it can be used for extra fine detail spray. Professional results in a small package.

Cordless, Light & Portable Airbrush: Never be constrained by cables again! No need to connect the cable to any power supplies and expensive airbrush compressor!
USB-Rechargeable (built-in battery): Can be recharged using the included USB cable.
Adjustable: Two kinds of air pressure can be adjusted, The knob at the end of the spray gun adjusts the density and volume of the spray. Adoption 0.3mm nozzle and needle to make the spray more delicate
150Kpa High pressure, 100% Effective: The pressure of our airbrush compressor kit is 150Kpa.

Durable: Made with High-Quality Precision Components that enable this airbrush to work efficiently while providing exceptional atomization and accurate spray control.
Risk-Free Purchase - 100% Lifetime Satisfaction Guarantee.
 - Robert F. Patterson

⭐⭐⭐⭐⭐ You guys exceeded my expectations and made something new for me!

 "This airbrush was perfect for me! It was my first time ever using an airbrush and it was SO simple to use. the set-up was easy and my first airbrushed cookie (the V in the pic) was a success! Perfect for hobbies or even small businesses like I have. I will DEFINITELY be recommending this airbrush in the future. so easy. No stress at all. looking forward to using it for more cookies! Many Thanks.".
Five Reasons you should give it a try
1 More control.
2 High pressure.
3 Fast charging.
4 Ergonomic design to avoid hand fatigue.
5 Indoor & outdoor.
A top-selling user-friendly and versatile Airbrush.
Get your Cordless Compressor Cake Airbrush Now!
HOW TO USE THE AIRBRUSH?
Step 1
install the spray gun on the air pump.
Step 2
Pour the liquid into the cup after proper dilution.
Step 3
Hold the spray gun gently in your hand.
Step 4
Turn on the switch on the pump and press the trigger, a blast of air appears. Then gradually pull the trigger backward to atomize the color.
HOW TO CLEAN THE AIRBRUSH?
Step 1
Add several drops of water or cleaning solution into the airbrush cup, the solution will dissolve the leftover paint.
Step 2
With the power on, place your finger over the airbrush nozzle, press and pull the trigger back to block airflow until small bubbles appear in the water metal cup, repeated washing, and clear the airbrush inside.
Step 3
With the air compressor on, blow out the remaining liquid onto a tissue or in your bathroom sink.
Specifications:
Material: Aluminum Alloy
Air Pressure: 150Kpa High pressure 100% Effective
Rated Power: 7.4V/8.10A
Battery Capacity: 800mAh
Nozzle Diameter: 0.3mm
Charging Time: 1 Hour
Using Time: 30 Minutes continuously

Package includes:
Main machine * 1
Spray gun * 1
Metal water Tank(5ml) * 1
Plastic Water tank(20ml/40ml) * 2
USB cord * 1
Instruction Manual * 1
---