Blind Dog Harness Guiding Device.
$39.95

$39.95
Buy more than 1 and save 10% for the entire order.
---
Only a few left in stock!
---
Fast US Delivery.

Dispatch in 1-3 Days.

Easy 30 Days Return.

Secure Payment.
---
Protect your beloved dog:
Our product is specially made for dogs with eyesight problems.
Use this item to shield your dog from running into surrounding things.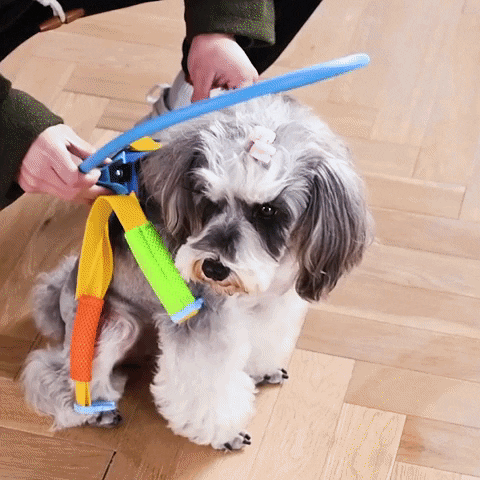 Rebuild your dog's confidence:
Impaired eyesight will dampen the dog's confidence in walking, which will result in the dog's reluctance to move.
By using our products, dogs can regain their confidence and walk with assurance.
Lightweight and simple to wear:
This halo for blind dogs comes attached to a vest harness so your pet can wear it easily, and the double buckle design can prevent the dog from breaking free.
This product is made of soft knitted fabric and ultra-light EVA. Wearing this is almost no weight for your dog.
Does not affect eating and sleeping:
Using this product will allow your dog to enjoy the daily activities that he did when his eyesight was intact, including eating and drinking, sleeping, or playing, all while staying confidently bump-free.
This product comes in five sizes:
Before purchasing, please take a measurement of your dog's chest and nasal distance to determine the best size.
HOW IT WORKS:
When the halo taps a hard surface, it acts as a buffer to safeguard your dog's head, face, and nose from contact and avoid pain and accidents. The contact of the halo with the surface teaches the dog to change direction and learn their surroundings.
Risk-Free Purchase 100% Satisfaction Guarantee.
We provide warranties for our products. If you are not satisfied with our products for any reason, please feel free to email us, we will do our best to solve your problem quickly and efficiently.

Low Stock: we only have a few of these left! Get it now before it's completely gone.

Customer Questions & Answers
1. I have a pitbull/boxer mix of 75lbs.. which size would fit best? Thank you
Hello, thanks for your question. Our product is mainly based on the dog's chest circumference and the distance from the dog's nose to the chest to choose the appropriate model. Weight alone cannot accurately determine which model is the most suitable. Our suggestion is to measure the dog's chest circumference and the distance from the nose to the chest and then compare the size table to select the appropriate model.


2. How many inches in front of the dog's nose should the ring be, looking for a general recommendation?
Hi, thanks for your question. Usually, we recommend that the ring be about 2 inches from the dog's nose. 

3. Can my dog wear the harness all the time? is it made for comfort? my 125lb german shep has gone blind due to retinal detachment
It is made for comfort and he can eat and sleep wearing it but I don't feel your dog should wear it all the time.

---