Fly Fishing Vest Adjustable for Men & Women.
$64.99

$64.99
Buy more than 1 and save 10% for the entire order.
---
---
Fast US Delivery.

Dispatch in 1-3 Days.

Easy 30 Days Return.

Secure Payment.
---
With our fishing vest, you'll have the tackle and tools you need on hand at all times.

Whether you're a fly fisher standing in the middle of a stream, a shore-caster walking the beach in search of a sweet spot, or sharing a small boat with your fishing buddies, you might not want to deal with a bulky tackle box.
You'll find our vest has ample room for everything you may need to reel in that trophy catch.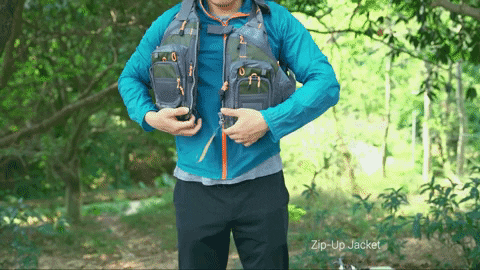 One size fits all – Adjustable suspension system. Adjustable padded shoulder & Waist Straps allow custom fit - one size fits most

The vest is adjustable in size (waist : 37.4in ~ 68.9in / 95cm ~ 175cm; Length: 20.5in ~ 28.3in / 52cm ~ 72cm; Weight: 60-100kg/ 132-220lbs). Adjustable belts that can be adjusted to height and weight to fit your height and weight. Universal Adult Size. Open sides leave you with more room to paddle, cast, or aim on the water.
18 total pockets (including 14 zippered pockets with smooth conceal zippers) with specific design functions for everything from fly boxes to thermometers.
Lightweight material dries faster and breathes better.

Padded air mesh shoulder straps provide the ultimate comfort and breathability.
Mesh back dissipates both heat and weight to keep you comfortable all day on the water.

D-ring on the back to attach a fishing net, strobe holder loop for use in low light conditions, rod holder loops, knife lash tab, and a variety of attachment loops allow you to carry all your gear.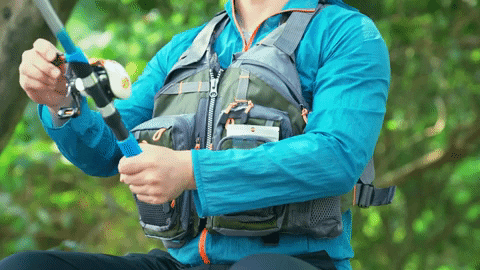 Specifications:
Adjustable Length:
20.5in ~ 28.3in (52cm ~ 72cm)
Adjustable waist:
37.4in ~ 68.9in (95cm ~ 175cm)
Suitable Weight:
132 ~ 220lbs (60-100kg)
Size:
Adjustable padded shoulder & Waist Straps allow custom fit - one size fits all
Fabric:
Premium polyester
Vest Net Weight:
19.4 oz (550 grams)
Features:
18-pocket design with D-Ring gear attachment; Molle webbing exterior, rod holder loops & a variety of accessory loops
Package Content:
1 X Adjustable Fishing Vest.
Customer Questions & Answers
1. Does one size fit all?
Yes, the vest has waist straps and a plastic buckle on each side, allowing a custom fit.

2. Would this fit a skinny guy?
Yes, the waist straps at two sides allow a custom fit.

3. What about the quality of the zippers?
Yes, with good quality zippers

4. Will this fit a 4xl guy?
Everything is adjustable so it would fit.

5. Is the vest cool in the summer heat
It is very lightweight and has a high back so it does not feel like a full vest, so YES!

6. Would this vest fit a 3x person?
Yes and with comfort!

7. This looks small… will it fit a man who is an extra-large?
The vest has an adjustable length of 20.5in. to 28.3in. and also has an adjustable waist ranging from 37.4in. to 68.9in., so the vest should fit you.

8.  Are the pockets big enough for a blood pressure cuff?
The size of the smaller front pocket behind the front mesh pocket is 5.5" x 3.9" x 1.2", the size of the larger front pocket behind the smaller front pocket is 7.9" x 4.3" x 2", and the chest pocket-sized 13.7" x 6".

9. What size is it?
It's really nice because it doesn't really have a size like a normal vest. It's fully adjustable to be from a size small/medium all the way up to my size. I usually wear an XXL, But I can wear this vest with a t-shirt, a thermal layer, a flannel, and a jacket under it.

---